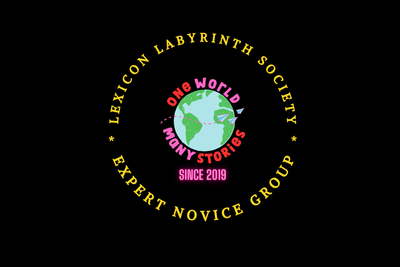 Founded on November 8, 2019, the Lexicon Labyrinth Society (LLS) began as a sanctuary for writers navigating the complex world of literary publishing in Pakistan. With the inception of Skills' Edge in 2022, LLS broadened its horizons, addressing the more systemic educational challenges in Pakistan, from rote learning to the lack of practical skills training.
The Background of Lexicon Labyrinth Society
The Lexicon Labyrinth Society (LLS) was the brainchild of Mr. Nasir Razzaq, the dynamic CEO of Expert Novice Group and Founder & former President of the society. As an accomplished writer with 14 published books under his belt, spanning poetry, essays, novellas, stories, and philosophies, Mr. Razzaq's journey wasn't without its trials and tribulations. His academic contributions are also noteworthy, with six research articles published in reputable journals and an M.Phil. in Linguistics. Before embarking on this venture, he served as a lecturer at several esteemed universities.
The inception of his passion for writing traces back to when he was a mere 13-year-old. But the world wasn't kind to this budding writer. Naysayers around him questioned his passion, often echoing the demotivating refrain, "What will you achieve by writing?" This was just the beginning of the challenges that Mr. Razzaq would face in his literary journey.
His literary accomplishments were hard-won. Publishing in Pakistan was not just about having the talent to write but also navigating the labyrinthine publishing industry. Many publishers demanded exorbitant prices coupled with restrictive rules and regulations, making the path even more arduous for emerging authors.
The educational framework in Pakistan, largely grounded in rote memorization, or the 'ratta-system', has been an impediment to holistic skill development. The system is bereft of genuine counseling, and countless students with innate talents remain unguided, their skills tragically untapped. Even gold medalists, products of this system, often lack the confidence to speak in public, underscoring the flaws in our educational approach. Mr. Razzaq's quest for a reliable publisher saw him traverse cities like Rawalpindi, Lahore, and Karachi, but to no avail. Not one to be confined by borders, he expanded his search internationally.
It's in this backdrop that Mr. Razzaq's quest took on a grander vision. While seeking publishers across cities from Rawalpindi to Karachi and even internationally, he encountered sage advice from industry veterans. Combining their insights with his personal experiences, he realized that his vision was not limited to self-publication. The literary landscape of Pakistan was teeming with talent, the talent that was stifled by a lack of guidance and opportunities.
So, the Lexicon Labyrinth Society was born. Rooted in Mr. Razzaq's journey and vision, the LLS sought to be more than just a publishing avenue. It aimed to provide a sanctuary, a guiding hand, and a beacon for all writers and career seekers at different stages of their journey, ensuring that the creativity of Pakistan found its rightful voice and platform.
Beyond his accolades and endeavors, Mr. Nasir Razzaq stands as an emblem of tenacity, foresight, and generosity. Through LLS, he not only offers a solution to publishing woes but also addresses the deeper systemic issues plaguing Pakistan's educational and creative spheres, positioning himself as a luminary and reformer in the literary world.
Scope
Literary Guidance: Guiding emerging writers on their journey, from honing their craft to understanding the intricacies of publishing.
Educational Reformation: Through Skills' Edge, addressing the shortcomings in Pakistan's educational methodology, focusing on skill development and real-world applicability.
Objectives
To Promote Literary Work: Foster and promote the creation of diverse literary works and ensure that they reach a broad audience.
To Develop Skills: Through Skills' Edge, transition from rote learning to real-world skill development, preparing students for modern challenges.
To Facilitate Networking & Collaborations: Connect writers, students, and industry professionals, offering a vast spectrum of opportunities.
Affordable Publishing: To aid writers in publishing their works in book form at minimal or no cost, breaking the barriers to entry in the traditional publishing world.
To Achieve International Recognition: Provide certifications and accolades that hold global recognition, uplifting the stature of Pakistani writers and students in the global arena.
Drafting Assistance: To provide support and resources for writers to effectively translate their thoughts and ideas onto paper, refining raw concepts into polished pieces.
Workshops and Training: To offer seminars, workshops, and training sessions to hone the skills of our members, ensuring continuous growth and development.
Literary Events: To organize readings, book launches, and literary festivals, giving writers a platform to showcase their work and interact with their readership.
Feedback and Critique: To establish a constructive environment where writers can receive feedback on their work, fostering a community of mutual growth and learning.
Why Join LLS?
In the ever-evolving labyrinth of the literary landscape, having a guide can make all the difference. LLS is more than a society—it's a movement. From guiding writers to reshaping the educational landscape of Pakistan, we aim to be a guiding light in the complex labyrinth of literature and education. Whether you're an aspiring author or a student seeking skills-based education, LLS provides the platforms, guidance, and opportunities you need.
Get Involved
From volunteering at events to leading workshops, there are myriad ways you can contribute to the Lexicon Labyrinth Society. Dive into our labyrinth, and together, let's make history.